Landscaping services in Sarasota, FL are common practice for many homeowners. But, have you ever considered that your landscaping is truly an investment? Our landscapers have compiled the top 5 reasons that local Sarasota residents should invest in landscaping services. Find out how you can put money back into your pocket by landscaping your home's exterior.
Our top five reasons to invest in landscaping services include:
Enhance the curb appeal of your home

Increase the value of your home

Enjoy the time you spend outdoors

Save time to do more of what you want

Only spend money where it's needed
1. Make Your Neighbors Say "WOW" When You Enhance Your Home's Curb Appeal 
Have you ever wanted to be the house on the block that all the neighbors ogle at and wish they had the same curb appeal? When you make the choice to hire a professional landscaper, you'll be doing just that. Sarasota homeowners are proud of where they live so what better thing to be proud of than the exterior of the home. If you add regularly scheduled lawn maintenance to your weekly routine this can greatly enhance the appeal in a simple, cost-effective way. If you're seeking the "wow" factor that we spoke of, consider consulting one of our landscape design experts for a full landscape installation and lighting redesign. 
2. Significantly Boost Your Home's Resale Value 
Prospective buyers are often put off by an unwelcoming abode such as uncut edging, overgrown trees and bushes, and overall poor curb appeal. You need them to try to picture themselves living in your house and the sale won't happen anytime soon without an intriguing, convenient landscape. 
Does Landscaping increase home value?
Landscaping can pay for itself when it comes to resale value. There have been studies completed that suggest that having a well-manicured lawn and landscaping can increase the home value between 5-15%. Whether you opt for landscaping design in Sarasota, Florida or choose regular pruning and irrigation maintenance, you're sure to come out at least 5% ahead on the resale value. 
3. Maximize the Time You Spend Having Fun in the Sun
Let's face it. When someone else does the work for you, you'll have more time to spend enjoying your time outdoors in the space rather than maintaining it. This leaves more time to have friends over to entertain in your beautiful space. After our experts come to do the work, you'll have a peaceful oasis to enjoy with loved ones or by yourself. We have many homeowners also tell us that they picked up a new outdoor hobby such as yoga or painting in their new backyards.
4. Time is Money!
Many homeowners spend their weekends and afternoons on lawn maintenance, edging their flower beds, pruning shrubs and trees, and mowing constantly during the rainy season. Imagine how much time you'd have if you didn't need to do this. More time could be spent with family and friends on the weekends. Not to mention that the summer and fall seasons are when maintenance on your landscape can be downright daunting. In the summer, the rainy days make the grass and foliage grow exponentially fast. Then in the fall, the trees will begin to lose leaves making the daily raking unbearable. Sarasota Landscaping Design wants to remind homeowners that their time is truly money.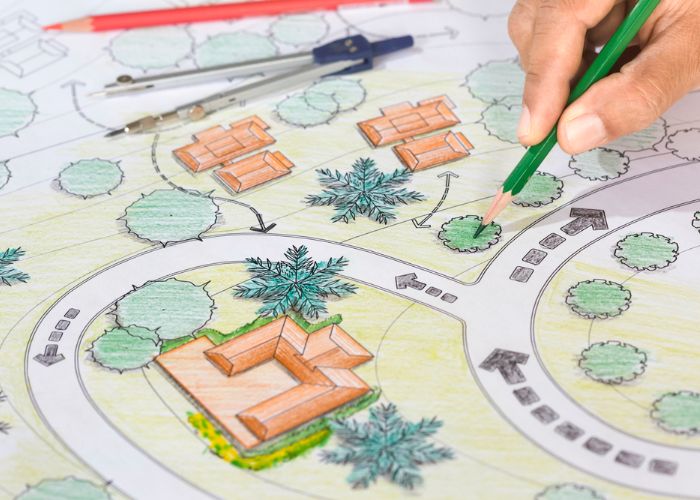 5. Spend Money ONLY Where it's Needed
Have you ever looked at the mod podge of materials in your shed and thought, "what am I going to do with all this stuff?" Homeowners are notorious for buying materials for projects that either doesn't get finished or they buy way too much. This causes the lack of room for things they do need and unnecessary money spent. Our landscapers love a good DIY project themselves, however, we prefer that the intensive labor is left for the experts. We're professionals when it comes to installing water features, installing irrigation systems, lighting design, and laying patios and walkways. Stop going to Home Depot and buying materials you'll never use! Trust the big landscaping projects to your local experts.
How much should I invest in landscaping?
The American Society of Landscape Architects recommends investing up to 10% of your home's value into your landscape design. This means that if you have a 300,000 dollar house then you should spend about 20,000-30,000 dollars. However, there are also updates that can be completed for much less if a complete landscape installation is not in the cards. Small updates of 5,000-10,000 can greatly enhance the landscape and value of the house.
Is landscaping worth the investment?
In short, landscaping is worth the investment. When you spend 5-10% of your home's value, you can either expect to make that back when you resell or an additional 5%. Typically, homeowners can expect to make a 5-15% increase in home value through landscape redesign. However, when you landscape the house, you're also investing in additional time for yourself and your family, improved outdoor space for entertaining, and overall enhancing curb appeal.
A Word from Our Landscapers
Sarasota Landscaping & Design is providing state-of-the-art landscaping services in the Sarasota county region from Bradenton, FL down to Siesta Key and Venice, FL. We specialize in landscape design and lighting design as well as landscape installation in Sarasota. Call our team to receive a quote for your professional landscaping services! We look forward to hearing from you.